Morgana king
Duration: september-october 2019
Morgana King, one of our current short-term artists-in-residence, left her career in public art project management to raise children and goats, and now five years later, she is re-emerging as an artist and craftswoman. The type of art she has always been most serious about consists of site-specific installations that bring together painting, sculpture, and ceramic elements. Now, with a renewed passion for her artwork, she plans to cultivate her new ideas, sharpen her tools, and perfect her process while in New Harmony.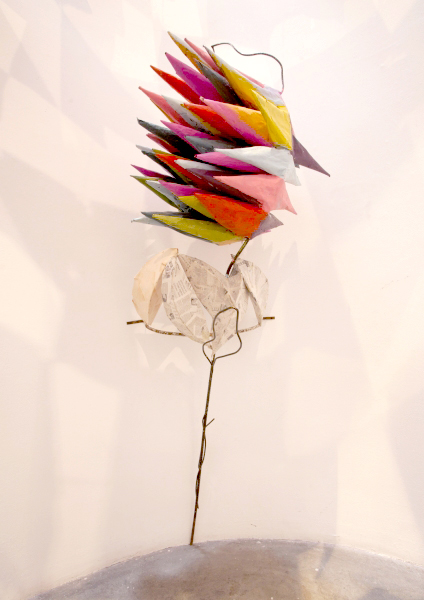 quick facts
How many years have you been working as a clay artist? I would say I've been a clay artist for about 20 years - on and off. I have a home studio now with a kiln and kick wheel, along with metal and wood tools to make sculptural and functional pieces.
What is your main clay body that you currently use? I mainly use cone 6 clays, but I'll switch between red clays and white stonewares for the color of the piece and to bring out the glaze colors.
What is the primary method you use for building your work? My work is generally a construction of pieces, both thrown and hand built, put together using molds and supports to hold up the clay until I can fire it.
What is your favorite studio tool? I love reclaiming clay in a pug mill, but I don't have one of my own yet. My most used tools are really basic - a fork and a knife. And my newest favs are my air compressor, spray gun and turn table, which have totally changed my approach to glaze application.
Do you have any future clay wishes or dreams? I want to focus my work in a more clear direction, so that I can make part of my income from my studio practice. I want to study glaze recipes and get back to making my own glazes and understanding the chemistry and science inherent to the process of ceramics. I'm also hoping to get some public art commissions to make bigger installations as well. I'm torn between functional pottery pieces and making larger sculptural work, so I would really love to do both.
ARTIST STATEMENT
My artwork, which varies from drawing and painting to ceramic and sculptural installations, is often colorful and abstract though it is intrinsically tied to the foreground/background of landscape. "Landscapes, and temporal elements like wind and sound, are inspirations for my work. Physicality - both the actions of making and the material's properties - are paramount to my process, while I develop each piece in an intuitive and responsive way." Inspired by imminent collapse, delicate balance and fleeting moments, my work is comfortable teetering on the brink.
BIOGRAPHY
BORN: washington, d.c.
Morgana King is an experienced artist and public art project manager. Originally from Washington, D.C., she received a BFA in ceramics from Washington University in St. Louis, MO. Now she lives in New Orleans, creating artwork in her own ceramics studio and for Kern Studios as a Mardi Gras float painter. Since moving to New Orleans in 2001, she has been both an artist and arts administrator, becoming the Director of Public Art and Special Projects for the Arts Council of New Orleans and a founding member of The Front, an artist-run collective gallery in the St. Claude Arts District of New Orleans. She was one of the 19 inaugural artists in residence at Louisiana Artworks in 2008, and her design was the winner of the Downtown Development District's "Artification" transformation of a Canal Streetcar stop. And, in 2012, she was awarded a Louisiana Artist Fellowship grant to produce "Pointless" a full room installation at the New Orleans Contemporary Arts Center.